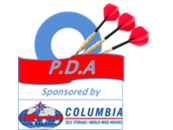 Paphos Darts League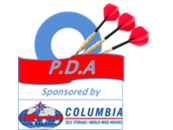 Take a group of like-minded competitive, friendly people, cooler dark winter evenings and welcoming venues with great atmospheres and enough space and hey-presto a Darts League is born.
This is why the Paphos Parts League was created in mid 2018. With absolute dedication to fairness, friendliness and friendship, the league is celebrating it's second year and now hosts twelve enthusiastic teams.
The founders are devoted to ensuring that the teams and their members encounter friendly welcomes, fair gamesmanship and competitive fun, and that the venues are assured of winter revenue. Our members hail from all religions, races and walks of life and are dedicated to inclusion and harmony.
The PDA welcomes friends, family, locals and tourists to join them to watch their matches and participate in supporting our members on winter Tuesday evenings.
PDA. Dedicated to fairness, friendliness and fun.
The PDA would like to thank all our sponsors, players and venues for your continued support:
2019/2020 Sponsors
Columbia Movers, Status Insurance, Eye View Opticals, Jack & Sons Transport Services, 247 Security Services, Petz Stuff, SOS Computers, Tassos Aspros Pharmacy, Kolios Butchery, One Stop DIY, Constantinou Motors & The Roost B&B.
Media Sponsorship : Paphos Post & Rock Fm.
Social, News & Weather
Facebook
Never miss an update
Follow the site to get the latest news and results straight to your email